NYIIX NY Traffic Statistics
To achieve its mission, NYIIX and the employees that represent both TELEHOUSE and NYIIX stand for these values:
• Integrity and honesty
• Passion for customers, partners and technology
• Commitment to serving the Internet community
• Openness, transparency and accountability
JOIN NYIIX TODAY!
This graph represents the Entire Traffic exchanged via NYIIX (New York International IX).
View the weekly, monthly and yearly analysis.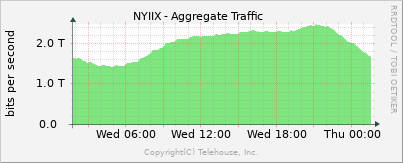 NYIIX is available at the following New York Metro Locations:
32 Avenue of Americas, NYC

60 Hudson, NYC

7 Teleport, NYC

85 10th Avenue, NYC

111 8th Avenue, NYC

165 Halsey St, Newark, NJ

275 Hartz Way, Secaucus, NJ
Experience the Speed of The NYIIX NY Peering Exchange.
Enter your email to get in touch or find out more.